SO CLOSE to two hundred films reviewed! In case you're new here, I'm watching one movie a day for a year, and have been for two years in a row now. I write up ten review round-ups to chronicle my progress. You can also follow me on Letterboxd for an early sneak peek to see what I've watched and to read exclusive reviews on short films! Now let's get started with reviewing some films, shall we?
DAY 181 – CARGO (2018)
I had watched the short film this is based off of, and thought it was good but I was craving more story elements to flesh it out. This feature film adaptation gave me what I was hungering for. Martin Freeman is excellent as a father who must protect his infant daughter during the zombie apocalypse, no matter the cost. Along the way, he encounters both friendly and hostile individuals, has to outsmart zombies, and has to find a safe shelter for his daughter.
I was thoroughly surprised by how refreshing this movie was. If you're tired of typical zombie fare, definitely check out Cargo. It's gut-wrenching and packed with powerful messages and incredibly emotional moments, plus the cinematography is stunning. Some moments are of course predictable, but for the most part this is a smart, thought-provoking film.
VERDICT: 4/5
DAY 182 – ALL THE MONEY IN THE WORLD (2017)
I was skeptical about how this film would turn out after the sudden replacement of Kevin Spacey with Christopher Plummer, and I was pleasantly surprised by how well the movie holds up despite the abrupt shake-up. Plummer is fantastic as J. Paul Getty, deliciously stealing every scene he's in and seeming like the most natural selection for the role. The story, which is based on the true account of the kidnapping of John Paul Getty III, is also fascinating. My only complaints I had were that Mark Wahlberg felt somewhat shoehorned in to me, and Michelle Williams' performance wavered in places (plus the film is fairly long and could have been shortened some to pack a more powerful punch). Ridley Scott still managed to infuse All the Money in the World with humor and harrowing moments, though, and it managed to hold my attention.
VERDICT: 3.5/5
DAY 183 – FAHRENHEIT 451 (2018)
I'll admit this up front: I've never been a fan of the original, groundbreaking novel of the same name, but I had high hopes for this adaptation. I adored Ramin Bahrani's previous film 99 Homes, plus Michael B. Jordan and Michael Shannon are both massively talented actors. Sadly, the story still didn't manage to ignite my interest. The visuals and effects are gorgeous, the themes of suppression are topical, and the performances are solid, but the narrative just kept losing me. I was hoping this would make me re-evaluate my opinion on Ray Bradbury's book, but this failed to do that.
VERDICT: 3/5
DAY 184 – STAR WARS EPISODE III: REVENGE OF THE SITH (2005)
By far my favorite entry in the prequel trilogy, Revenge of the Sith is dark, action-packed, and emotional. Hayden Christensen and Natalie Portman finally feel like they got their feet on the ground with their portrayals of Anakin Skywalker and Padmé Amidala, and Ewan McGregor is as badass as ever as Obi-Wan Kenobi. Some of the CGI is still iffy, but this is a marked improvement over the two previous films (plus, there's way less of Jar Jar Binks in this installment).
VERDICT: 4/5
DAY 185 – THE STRANGERS: PREY AT NIGHT (2018)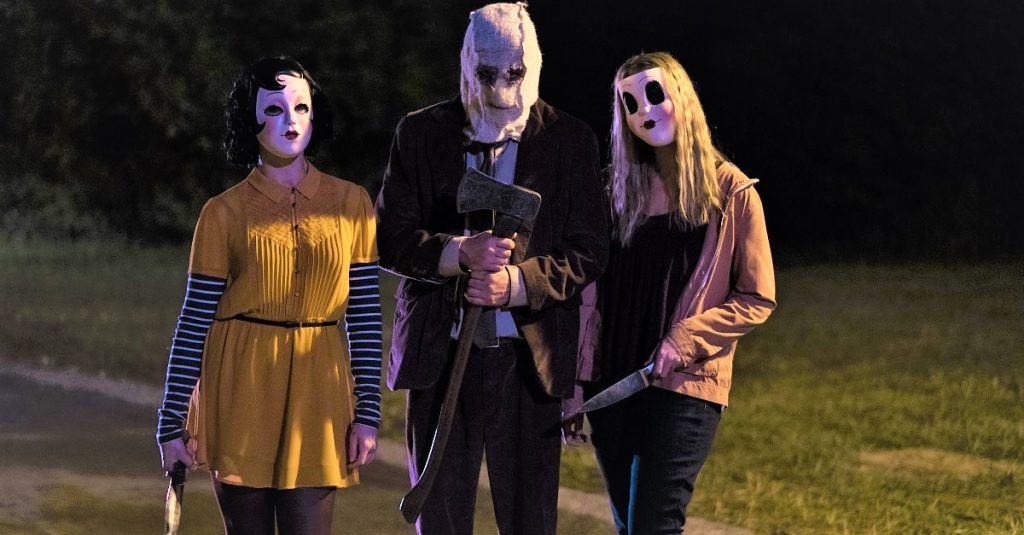 The sequel to the smart, tension-filled original Strangers film, this just felt like a by-the-numbers slasher. There are some awesomely bloody action scenes (including one set at a neon-tinged pool area set to "Total Eclipse of the Heart"), but everything feels formulaic. The acting is sub-par, and the movie is incredibly predictable. It's a fun watch, but not a must-see horror film.
DAY 186 – THOROUGHBREDS (2018)
Thoroughbreds is a whip-smart, acidly-laced dark trip of a film. Anya Taylor-Joy and Olivia Cooke are perfectly cast as Lily and Amanda, respectively, who are forced together after Amanda's mother hires Lily to tutor Amanda. Amanda doesn't feel emotions though, and has dark tendencies and thoughts. Lily is soon drawn into this world and mind-set, and the story just keeps pulling punches as the tale unfolds.
Anton Yelchin is brilliant in his final role as a greasy-haired, energetic drug dealer, and there are some genuinely shocking moments in Thoroughbreds. A couple of scenes felt like they could have been trimmed, and some people will be turned off by the disturbing nature of the film, but I highly recommend watching this if it sounds interesting to you.
VERDICT: 4/5
DAY 187 – SOLO: A STAR WARS STORY (2018)
Unpopular opinion here: I LOVED Solo. Sure, Alden Ehrenreich is no Harrison Ford, but he makes the role his own and has the trademark swagger required of the character. I loved the fact this was a science-fiction heist movie, and the new (and old) characters were brilliant. I adored seeing how Han and Chewbacca (Joonas Suotamo) first meet, and Qi'ra (played with enthusiasm by Emilia Clarke) and Lando Calrissian (Donald Glover, in the role that seems tailor-made for him) steal every scene they're in. This is a visually beautiful film with exciting action sequences and plenty of twists and turns. Ron Howard admirably directed this latest entry into the Star Wars canon, and I really don't understand the hate for this film.
VERDICT: 4.5/5
DAY 188 – FERAL (2018)
A by-the-numbers horror film that fails to scare and feels like a rip-off of films such as Cabin Fever and Evil Dead, Feral follows a group of young adults (among them are Scout Taylor-Compton, Olivia Luccardi, and Brock Kelly) as they go on a camping expedition. They soon discover something in the woods that threatens all of their lives… and every character besides Alice (Taylor-Compton) and Talbot (Lew Temple) is a complete idiot. The gore is exceptionally well-done and Alice's backstory is intriguing, but otherwise, this is a majorly predictable film that didn't satisfy my horror itch.
VERDICT: 2.5/5
DAY 189 – THE TALE (2018)
A brave film that is based off of director Jennifer Fox's life, The Tale is a disturbing film about child abuse and the lingering effects of trauma. Laura Dern is fantastic as Jennifer, and the supporting turns from Elizabeth Debicki and Jason Ritter are excellent, but the pacing of the movie is glacially slow and didn't allow the story to pack as much of a punch (even though once it hits it's still devastating) as it should have. This won't be for everyone, but it is an important tale that needed to be told and demands to be watched.
VERDICT: 3.5/5
DAY 190 – BEAUTY MARK (2018)
Another harrowing film about abuse, Beauty Mark features a star-making performance from Auden Thornton as Angie, a single mother who is trying to make ends meet and must somehow get her hands on $1,700 to find a new home for her family. As she goes to desperate lengths to obtain the money, your heart breaks for her. There are incredibly emotional moments peppered throughout the movie, and some are hard to stomach.
I did have some issues with this movie, though. The other performances are weak, and the ending is a major disappointment. This is a powerful story that could have been great if a few things had been tweaked.
VERDICT: 3.5/5