Oh look, more movies my brain and eyes have absorbed! There are some absolutely fantastic films in this wrap-up, and I'm beyond excited to talk about them. Also, if you'd like to know which films I've been watching and what I rate them, follow me on Letterboxd.
DAY 161 – HAPPY ANNIVERSARY (2018)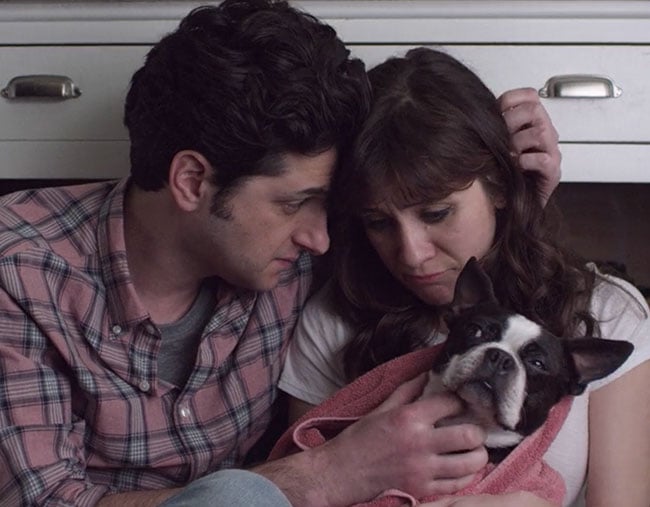 This film had several interesting concepts wrapped up in it's simple plot, but sadly, the most intriguing aspects are left with loose ends. Happy Anniversary follows Mollie (Noël Wells) and Sam (Ben Schwartz) as they decide whether to continue their relationship after three years. The movie is extremely predictable, but has loads of charm to help bolster it. Supporting performances from Rahul Kohli (iZombie) and Kristin Bauer van Straten (True Blood) elevate the film, but as I previously mentioned, there are some interesting concepts that are introduced but are quickly abandoned. I wish this film had been longer to flesh out these themes, and to add more to Mollie and Sam's relationship. Still, this is a fun, if typical, watch.
VERDICT: 3/5
DAY 162 – 10×10 (2018)
This film starts off like a typical kidnapping film, and has several dumb, laughable moments in its first half that has you questioning the logic of the antagonist Lewis (Luke Evans). The second half, though, is when 10×10 becomes interesting and started to command my attention. Evans and Kelly Reilly captivate, and the plot becomes so much deeper and twisted. If you can get past the formulaic beginning, this is an enjoyable thriller.
VERDICT: 3/5
DAY 163 – RUST AND BONE (2012)
A beautiful meditation on love and loss, Rust and Bone is a triumph of a film that provokes thought. Marion Cotillard and Matthias Schoenaerts are wonderful as an Orca trainer and a negligent father/ playboy, respectively. After Cotillard's Stéphanie suffers a horrible tragedy, Schoenaerts' Alain must decide whether he'll continue his irresponsible lifestyle or if he'll help this woman regain her life, while also taking responsibility for his own. The cinematography is gorgeous, and the story kept me captivated. Some will be put off by Alain's behavior (which I admit I was to a degree), but if you can look beyond the surface, you'll find something much deeper that most of us can relate to.
VERDICT: 4/5
DAY 164 – THE ELEPHANT MAN (1980)
A study in human decency, acceptance, and kindness, David Lynch's The Elephant Man is a heart-string-tugging take on the true story of Joseph Merrick (John in the film). John (portrayed brilliantly by John Hurt) is extremely intelligent and kind, but society has ostracized him for his looks. Anthony Hopkins' Dr. Treves looks beyond the surface and befriends Merrick while also saving him from a life of being in a freak show. The performances are excellent, and Lynch proves his versatility as a director with this film. Some of the story is dragged out, but I was still emotionally impacted after watching The Elephant Man.
VERDICT: 4/5
DAY 165 – MEADOWLAND (2015)
Reed Morano's moving portrait of a couple who has lost a child, Meadowland examines heavy themes such as depression, loneliness, and grief. Olivia Wilde is particularly excellent as the mother, Sarah. Her pain is palpable and had me weeping several times during the film. The cinematography is beautifully chaotic (dictated by the emotional beats of the story, some scenes are hazy, some are crystal). Giovanni Ribisi and Elisabeth Moss turn in powerful, albeit brief, supporting performances. There are triggers for losing a child, self-harm, and depression, but this is still a powerful film that hasn't received the recognition it deserves.
VERDICT: 4/5
DAY 166 – DESPICABLE ME 3 (2017)
The third film in the hit Despicable Me franchise follows Gru (Steve Carell) as he both tries to battle stuck-in-the-80's villain Balthazar Bratt (voiced by South Park maestro Trey Parker) and deals with the fact he has a twin brother named Dru (Carell again). The minions take a backseat in this iteration, and even though this is a bright, entertaining movie, something felt lacking. The charm from the first installment has continued to diminish with each entry, but the emphasis on family is still a powerful cornerstone (even if it's pushed to the background). Despicable Me 3 is a fun family film, but it doesn't manage to hit the highs of the original.
VERDICT: 3/5
DAY 167 – PADDINGTON 2 (2018)
The original Paddington took me completely by surprise, and the sequel is equally as delightful. This time around, the treasured bear (voiced by the adorable Ben Whishaw) just wants to buy a birthday gift for his beloved Aunt Lucy, but inexplicably finds himself in prison after being wrongly accused of stealing a pop-up book. His surrogate family the Browns (comprised of Hugh Bonneville and Sally Hawkins) must both find the true thief and get their beloved Paddington out of the slammer. The visual effects are extraordinary, and the themes of family and justice are powerful. I dare you not to shed a tear, laugh, or smile during this film. An excellent sequel to a film that made me feel like I had just eaten a delightful marmalade sandwich.
VERDICT: 4.5/5
DAY 168 – GAME NIGHT (2018)
I'm not the biggest fan of comedy, but I was still intrigued by the concept of Game Night. A couple (Jason Bateman and Rachel McAdams), who fell in love after meeting during their titular get-together, are hosting their own after they've married and the husband's brother (Kyle Chandler) comes to visit them. Things soon turn dark after a kidnapping occurs. What I loved about this film was that it (mostly) didn't rely on puerile humor (the fact that it does occasionally rely on this form of humor personally detracted from the movie for me), and instead relied on dark, twisted laughs (that probably says something about me as a person). Bateman and McAdams are at the top of their game, and the supporting performances from Chandler, Jesse Plemons, Sharon Horgan, and Billy Magnussen are strong and add extra dimension to the story. This is definitely a fun, thrilling dark comedy that you should check out if you're a fan of the genre.
VERDICT: 4/5
DAY 169 – HOUSE (1977)
Let's just get this out of the way: this movie is bat-shit bonkers, and your tolerance for this will dictate your enjoyment of House/Hausu. If you love Twin Peaks and/or are a diehard fan of WTF horror, definitely give this a watch. The story revolves around a group of schoolgirls traveling to stay at one of the girls' aunt's home, only to uncover sinister secrets. The visuals are hilariously cheesy, yet still disturbing, and the levity of the character names and personalities adds an edge to what could have been a stereotypical horror movie. House is brilliant because of its ingenuity and fearlessness, and I implore you to watch this if it sounds like your cup of bloody tea.
VERDICT: 4/5
DAY 170 – SOUTHPAW (2015)
I enjoyed my time with Southpaw, even if it followed the formulaic path of most boxing movies. Jake Gyllenhaal is fantastic as Billy Hope, and Oona Laurence and Rachel McAdams are great as his daughter and wife, respectively. The story packs some major punches, and it's equally fascinating and emotional to see how Billy adjusts to his life after a major tragedy. Southpaw doesn't break new ground, but it's still a worthwhile watch.
VERDICT: 3.5/5