Time for another wrap-up/diary of my crazy journey to watch a movie a day for a year! If you'd like to get a sneak peek of the films I watch and what I rate them, follow me on Letterboxd!
DAY 151 – THE BREADWINNER (2017)
A beautiful animation that centers on a young girl named Parvana (Saara Chaudry) who disguises herself as a boy to be able to support her family, The Breadwinner has hard-hitting, important messages that could go over the heads of younger viewers but will have adults in deep thought/tears. I loved the imaginative sequences spliced throughout the heavy moments of the story, and recommend this to anyone who loves animated films with a message.
VERDICT: 4/5
DAY 152 – SPACEBALLS (1987)
I don't know why it took me so long to watch Mel Brooks' loving spoof of classic sci-fi films such as Star Wars, Star Trek, et al., but I'm kicking myself for it. Spaceballs is a fun, rollicking ride with tons of hilarious moments and lines packed in. The visuals still hold up today, and Rick Moranis is great as Dark Helmet. My only issues with the film were that some of the jokes fell flat and a couple of the performances felt forced. Otherwise, this is a classic comedy that every fan of science fiction needs to watch.
VERDICT: 4/5
DAY 153 – ASSAULT ON PRECINCT 13 (1976)
John Carpenter's uber-violent tale of a street gang and the Los Angeles police department (with the help of two convicts and the secretary of the station) sadly didn't live up to the high expectations I had for it. I love Carpenter as a director/creator, and the action scenes and soundtrack were absolutely brilliant, but I felt some of the acting was lacking and the story was too simple. Still worth a watch, but this doesn't hold up among the likes of his other work.
VERDICT: 3.5/5
DAY 154 – YOU WERE NEVER REALLY HERE (2018)
You Were Never Really Here boasts a fantastic performance from Joaquin Phoenix as a man who tracks down missing girls, and incredibly violent, hard-to-stomach scenes and themes, but the glacial pacing personally detracted from the film for me. Lynne Ramsay is a capable director, and the movie never felt gratuitous or played strictly for shock factor. The story, though sparse, has impactful twists and turns, the concept is brilliant, and the cinematography was stunning, but I felt my attention drifting several times. I know a lot of people absolutely love this film, but it just didn't do it for me. If the pacing had been quicker, I feel like this would have won me over completely.
VERDICT: 3.5/5
DAY 155 – KODACHROME (2018)
I really had no idea what to expect with Kodachrome, and I walked away utterly charmed and feeling both cheerful and sad (in a good way) as the credits rolled. The film follows Matt (Jason Sudeikis) as he learns his father Ben (a fantastic Ed Harris) is dying. His father is a renowned photographer whose last wish is to develop his last set of Kodak pictures at the only existing Kodachrome lab in the country. With the help of Ben's nurse Zoe (Elizabeth Olsen), they embark on a road trip to remember.
Sure, Kodachrome is predictable at points, and follows the road trip film bullet points, but it still has heaps of charm and levity in the face of impending tragedy. You won't be surprised by this film, but it's a shot of pure joy.
VERDICT: 3.5/5
DAY 156 – DUDE (2018)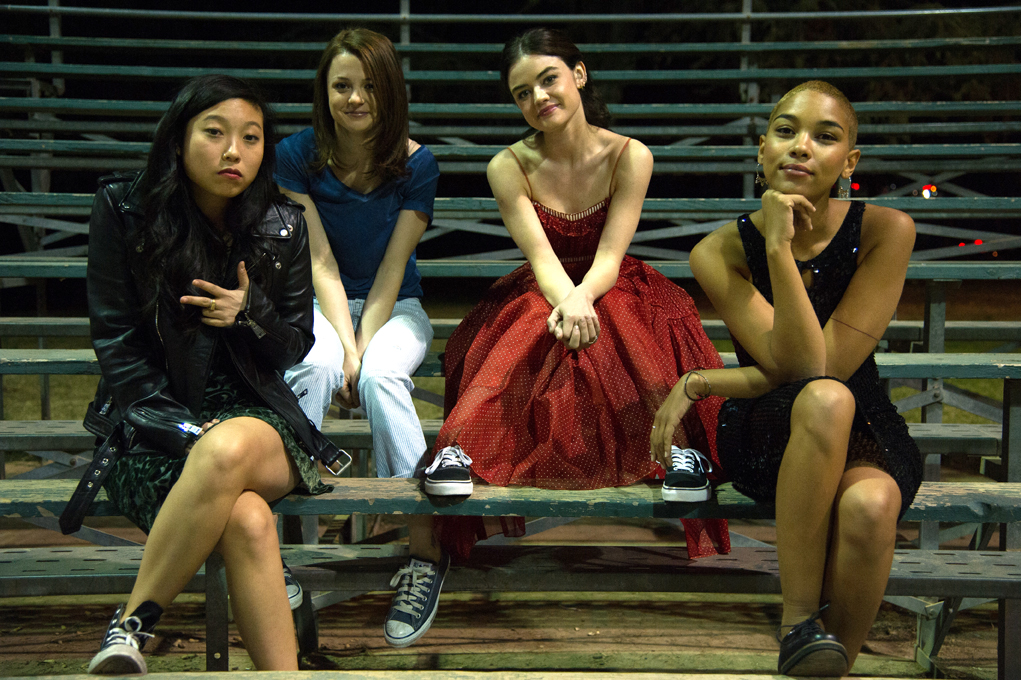 I'll admit, I only wanted to watch this movie because I have a major girl crush on Lucy Hale (who absolutely steals the entire film), but I was pleasantly surprised by several story moments. The basic premise centers on four teenage girls (Hale, Alexandra Shipp, Kathryn Prescott, and Awkwafina) as they prepare for graduation and deal with the aftereffects of tragedy. Sure, most of the jokes are puerile and caused me to roll my eyes instead of laugh, but there are majorly powerful beats that salvaged this comedy for me. It deals with heavy topics (albeit briefly) that are topical today, and shows the bonds of female friendship and how love can change our lives. I just wish Dude had been less of a comedy and had focused more on these important themes.
VERDICT: 3/5
DAY 157 – THE CRAZIES (1973)
George A. Romero's classic tale of a virus that causes the inhabitants of a Pennsylvania town to turn into murderous, destructive monsters (for lack of a better word), this doesn't hold up that well today. The premise is intriguing, but the 103 minute run-time dragged and I kept losing interest (which is never a good thing when it comes to horror). There are some brilliantly twisted scenes and a few good story beats that evoke Romero's classic style, but I was ultimately left craving more.
VERDICT: 3/5
DAY 158 – SUBMERGENCE (2018)
I'll watch any film with Alicia Vikander in it, and Submergence definitely kept me intrigued. This is NOT a film for everyone, but if you like multi-layered stories that make you think with bravura performances, give Submergence a chance. Vikander and James McAvoy are phenomenal and have great chemistry, and the themes of the plot (love, climate change, and the effects of war) provoke thought (even though sometimes they become muddled together). The cinematography is gorgeous, and the editing is superb. Some will be turned off by the structure of Submergence, but I personally enjoyed it.
VERDICT: 3.5/5
DAY 159 – WINCHESTER (2018)
Based off of the true story of Sarah Winchester (portrayed by Helen Mirren), this had the potential to be a fascinating film that shed light on why she kept building on to her home until the day she died. Sadly, it relies on the usual scare tactics and becomes a typical horror movie, which is a shame. Jason Clarke, Sarah Snook, and Mirren give great performances, the visuals and cinematography are darkly beautiful, and there are a couple of effective scares, but the story devolves into such an average affair that the rest of the film is affected by it. Winchester had so much potential, and this is definitely the Spierig brother weakest cinematic work.
VERDICT: 2.5/5
DAY 160 – AVENGERS: INFINITY WAR (2018)
I can't talk about Infinity War much without spoiling the mess out of it, but I can say it was shocking, emotional, action-packed, and a love letter to comic fans while also appeasing those who enjoy the Marvel Cinematic Universe. Featuring all of the superheroes (well, most of them) that we've come to know so far, and introducing some new, bad-ass characters, Infinity War is an ambitious film that could have fallen apart in the wrong hands, but was luckily placed in the trusty hands of the Russo brothers. Definitely a must-see film.
VERDICT: 5/5