I'm baaaccckkkk… with ten more movie reviews. I've become utterly addicted to watching movies, so enjoy these reviews! (Bee tee dubs, you can get a sneak peek at what I watch and what I rate the films on Letterboxd.)
DAY 21 – RUN LOLA RUN (1999)
A stylish, fun adrenaline ride of a movie, Run Lola Run centers on Lola (Franka Potente), who has to accrue a large sum of money in a twenty-minute time span. The film shows three different ways the story can end, and I was invested throughout the whole run time. This film provokes thought, and even if the story isn't extremely deep, it's interesting. Tom Tykwer created a risky, unique piece of cinema that utilizes different techniques, and it pays off.
VERDICT: 4/5
DAY 22 – ELECTION (1999)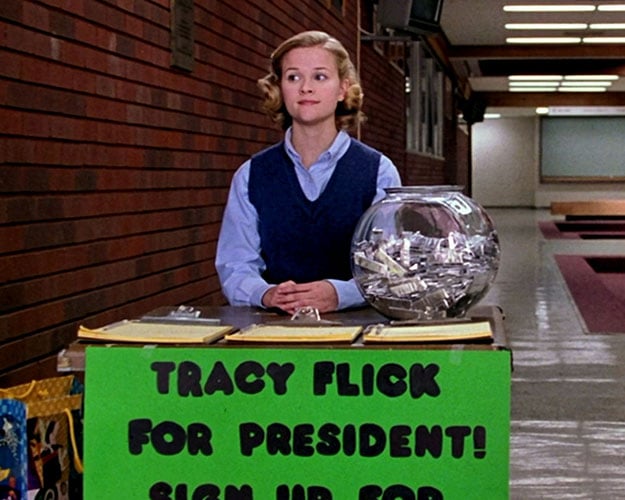 This is the first Alexander Payne film I have ever had the pleasure of watching, and I can't wait to see more of his work. Matthew Broderick and Reese Witherspoon are pitch perfect in Election, and they give nuance to both of their characters, however unlikable they both are. This film addresses dark topics such as pedophilia and adultery with dark humor (while still maintaining these are both horrible things), and it's an interesting experience.
VERDICT: 4/5
DAY 23 – LADY BIRD (2017)
One of the best films of 2017, Lady Bird is a beautiful film about finding oneself, navigating the murky waters of adolescence, and the bond between family. Greta Gerwig masterfully directs this film, while Saoirse Ronan and Laurie Metcalf deliver amazing performances. The supporting turns from Lucas Hedges, Timothée Chalamet, and Beanie Feldstein bolster the film with their wonderfully complex characters. I related to the character of Lady Bird so much, and left the theater both teary-eyed and happy. Watch this film ASAP.
VERDICT: 4.5/5
DAY 24 – MOTHER! (2017)
A beautiful, shocking film that managed to elicit audible gasps and tears from me, mother! is a divisive movie that I found to be extremely deep and gorgeous, albeit EXTREMELY disturbing. Jennifer Lawrence and Javier Bardem are wonderful, while Ed Harris, Michelle Pfeiffer, and Domhnall Gleeson add to the chaos. I won't spoil the film for you, but this is a true work of art that demands to be seen multiple times, and can have different interpretations pulled from it. If you're a fan of Darren Aronofsky, you'll love this cinematic treasure.
VERDICT: 5/5
DAY 25 – ATOMIC BLONDE (2017)
A stylish, fun, yet ultimately underwhelming action film. Atomic Blonde had so much potential, but the plot was messy, the action, though superb, was few and far between, and the characters weren't particularly likable. Charlize Theron kicks ass, and James McAvoy is a delight, but I was left a little disappointed, considering this came from the co-director of John Wick. This is a fun, sexy popcorn flick, but if you're looking for an action-fueled film with a powerful story, check out John Wick instead.
VERDICT: 3.5/5
DAY 26 – TANGERINE (2015)
I was drawn to this film due to the fact that it was entirely shot on an iPhone 5s, but at the end of the film, I was left largely unimpressed. There are important messages about acceptance, love, and self-worth, but the characters were so unlikable that I didn't care what happened to them, and the movie felt longer than its scant 88 minute run time. The cinematography is impressive, and I loved how the film immersed me in the culture and atmosphere of LA, but for me personally, Tangerine was a forgettable movie.
VERDICT: 3/5
DAY 27 – STAR WARS: THE LAST JEDI (2017)
I know this film pissed off a lot of people, but I adored The Last Jedi (and I'm a huge Star Wars fan). I felt that this was a wonderful continuation from The Force Awakens, and I loved getting to see more of Rey, Finn, Poe, Kylo Ren, et al. This trilogy is aimed at new fans of the franchise, but also adds elements that will appeal to existing fans of the franchise. I feel like people built this movie up too much in their heads, and weren't able to enjoy it because of high expectations. Just go in with an open mind, and you'll probably have a great time. This is on par with The Force Awakens for me, personally. Plus, Porgs are friends, not food.
VERDICT: 5/5
DAY 28 – HECTOR (2015)
A Christmas film that is sobering and heart-breaking, Hector managed to open my tear ducts. Sure, it's predictable, but it covers heavy topics with respect and unflinching honesty, and it ultimately left me appreciating what I had. I only wish it had been a longer film so I could have gotten to know more about Hector himself.
VERDICT: 3.5/5
DAY 29 – A CHRISTMAS HORROR STORY (2015)
A refreshing spin on holiday movies, A Christmas Horror Story is an anthology film that covers changelings, Krampus, ghosts, and a badass Santa. This was a fun ride, and if you're tired of the usual Christmas fare and love horror films, this is a worthy addition to your queue. Plus, it has William Shatner in it. The Shat makes everything more fun.
VERDICT: 3.5/5
DAY 30 – THE QUEEN (2006)
Continuing my fascination with the monarchy, I decided to finally watch Stephen Frears' The Queen. I wasn't left disappointed. Helen Mirren is a dream as Queen Elizabeth II, and Michael Sheen is brilliant as Tony Blair. The film follows the aftermath of Princess Diana's death, and how the royal family deals with the fallout. This was supremely fascinating, with beautiful cinematography and wonderful set and costume design. If you're a fan of the TV show The Crown, this is must-see viewing.
VERDICT: 4/5