Another round-up, ten more movies down. If you'd like to stay up-to-date with me, follow me on the ol' Letterboxd (you get sneak peeks of what this way too obsessed lady watches). Let the reviews commence!
DAY 11 – THE ICEMAN (2013)
This is a fascinating account of the true story of Richard Kuklinski (Michael Shannon), a loving family man… and a ruthless hit man. Shannon is incredible as Kuklinski, and the supporting cast (including Winona Ryder, Chris Evans, Ray Liotta, and David Schwimmer) are fantastic. The Iceman is a fascinating, brutal film, but it does feel formulaic, which is a shame. If you're a true crime junkie and/or love the cast, I recommend you watch this. Just know that it'll feel familiar.
VERDICT: 3.5/5
DAY 12 – THE GIRL WITH ALL THE GIFTS (2017)
A faithful adaptation of the novel of the same name, The Girl with All the Gifts is a refreshing take on the tired zombie genre. Sennia Nanua knocks it out of the park as Melanie, the young girl who leads us through the story. Supporting turns from Gemma Arterton, Paddy Considine, and Glenn Close add nuance and layers to the plot, and the emotional beats pack a punch. There's enough here to satisfy fans of the book, but also a few tweaks to keep it fresh. If you're becoming jaded with the current outcrop of zombie fare, check this movie out.
VERDICT: 4/5
DAY 13 – PATTI CAKE$ (2017)
After hearing rave reviews about this movie, I had fairly high expectations. I left the film feeling a little disappointed, but still inspired. Patti Cake$ follows Patricia Dombrowski, a.k.a. Killa P  (Danielle Macdonald), an aspiring rapper stuck in a dead-end town. No one besides her best friend Jheri (Siddharth Dhananjay), her grandma (Cathy Moriarty), and her maybe-paramour Basterd (Mamoudou Athie) believe that she has what it takes to break into the competitive world of rap, but that doesn't stop her from chasing her dreams. This unusual group forms a band called PBNJ, and cut an EP, all while facing criticism from Patricia's mom (Bridget Everett) and music execs.
Even though this is a formulaic follow-your-dreams film, it still manages to uplift and entertain. Macdonald is a talented actress who makes you root for Killa P, and the rest of the cast are endearing as well, with their own backstories and motivations. If you need a movie to pick you up and are craving something that encourages you to follow your dreams, you could do worse than popping in Patti Cake$.
VERDICT: 3.5/5
DAY 14 – LOGAN (2017)
A re-watch of one of my favorite films of 2017, Logan is an outstanding last entry for Wolverine, and Hugh Jackman's best performance as the titular character to date. A gritty, brutal film that holds an adamantium-coated claw to your throat during the entire ride.
VERDICT: 5/5
DAY 15 – THE DUCHESS (2008)
A beautiful film that is based on the life of Georgiana Spencer (portrayed by Keira Knightley), The Duchess chronicles Georgiana's life as a duchess, her unloving marriage to the Duke of Devonshire (Ralph Fiennes), her friendship with Elizabeth Foster (Haylet Atwell), and her affair with Charles Grey (Dominic Cooper). I was thoroughly invested in The Duchess, and found the performances to be outstanding. The costume design and set pieces are exquisite, and the story kept me hooked. The director, Saul Dibb, knows how to craft a fantastic period film. If you love historical pieces, I'd definitely recommend this film.
VERDICT: 4/5
DAY 16 – SUITE FRANCAISE (2014)
Continuing on with my Saul Dibb kick, I was intrigued by the concept of Suite Francaise. Based on the planned series by Irene Nemirovsky, Suite Francaise follows Lucile (Michelle Williams) as she has to manage living with her overbearing mother-in-law (Kristin Scott Thomas), while also housing a dashing German soldier (Matthias Schoenaerts) during World War II. This is a visually gorgeous film with outstanding performances, but something felt like it was missing from this movie. I can't place my finger on it, but it held the film back from being truly great. Still, it's a worthwhile watch if you're interested in this time period.
VERDICT: 3.5/5
DAY 17 – AMORES PERROS (2001)
A tough, but impactful, film to experience, Amores Perros connects three different people through a single, horrible event. What follows is an emotional, gutting story of love, family, and what we'll sacrifice to protect those we hold dear. If you're a dog lover, this movie will fuck you up. There are absolutely brutal scenes involving animals, and I have to issue this disclaimer to you (because I had no idea what this movie was about and was sobbing when I saw what happened on screen). Still, it's a hard-hitting piece of cinema that lingers long after the credits have rolled.
VERDICT: 4/5
DAY 18 – INGRID GOES WEST (2017)
A prescient film that will make you contemplate your social media habits, Ingrid Goes West follows the titular character (a wonderful Aubrey Plaza) as she is released from a mental institution after assaulting a woman she followed on Instagram. Soon enough, though, she's back on social media and has found the new It Girl Taylor Sloane (Elizabeth Olsen). She becomes obsessed, and moves to Los Angeles to befriend Taylor. What follows is a sobering depiction of how we view people online, and how most people hide the ugly parts of themselves from their glossy, picture-perfect online personas. Sure, this film is predictable, but the performances and emotional impact Ingrid Goes West leaves on the viewer makes this a must-watch movie for the social media age.
VERDICT: 4/5
DAY 19 – LUCKY NUMBER SLEVIN (2006)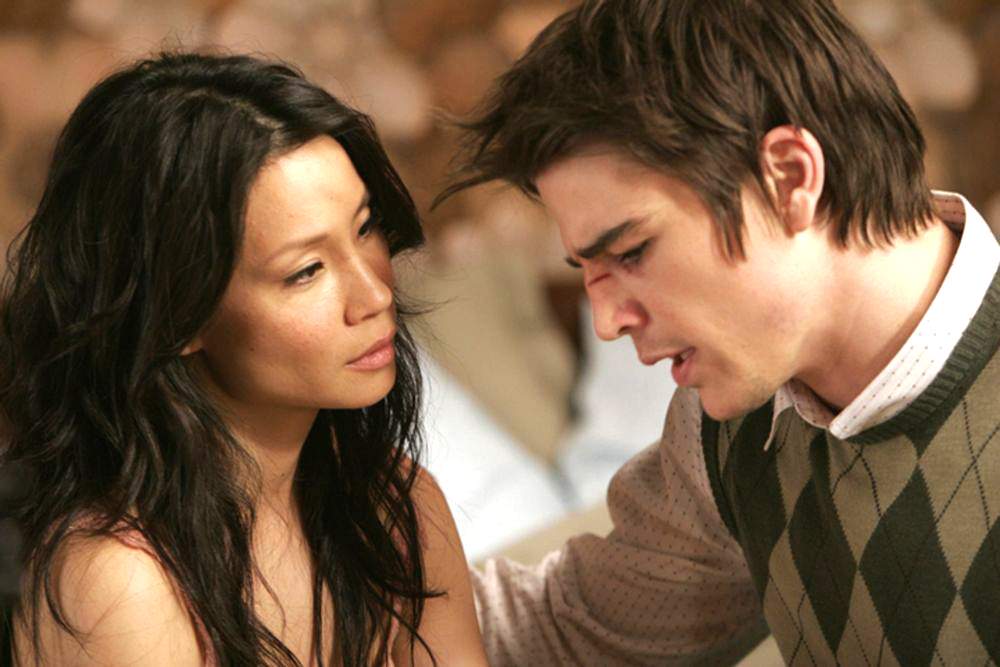 A twisty-turny action film, Lucky Number Slevin is an adrenaline-fuelled roller coaster of an experience. The plot follows Slevin (Josh Hartnett), as he's mistaken for his friend and is roped into the machinations of two different mob bosses (Ben Kingsley and Morgan Freeman). I had a fun time watching Lucky Number Slevin, but I feel like it's a film that benefits from multiple viewings. There's so much you can miss on just one viewing. Highly recommended, but I need to watch this a few more times to pick up every important detail.
VERDICT: 3.5/5
DAY 20 – THE YOUNG VICTORIA (2010)
Based on the life of Queen Victoria, The Young Victoria is Jean-Marc Vallee's take on the story of Victoria's (Emily Blunt) rise to Queen and her relationship with Prince Albert (Rupert Friend). The costume design is exquisite, and the cinematography is handsome. The performances are also outstanding, but I felt like this film was rushed, and glossed over some important aspects of Victoria's life. I wish that this film had been longer, and hadn't been as glossy as it was. Still, I thoroughly enjoyed my time spent watching The Young Victoria.
VERDICT: 3.5/5